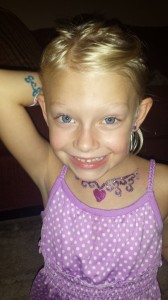 Temporary Glitter Tattoos are a great hit for birthday parties, pool parties, corporate events, events with bouncy tents, and even rainy days!  They are water-proof, smear-proof, and can last up to 4-7 days (depending on care).  Our glitters are made of cosmetic grade polyester, not metal, so it's safe for children and their skin!  
All temporary tattoos offered are FDA approved professional make up for face and body, and easily removed with rubbing alcohol or baby oil.  You can rest assured that no one will end up in tears because their design was ruined by water, sweat or extreme fun!  Also great for functions with bouncy tents, since they do not smear!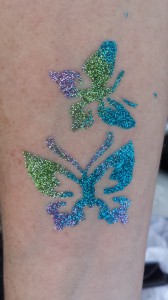 So if you're looking to add some extra sparkle to your next event, glitter tattoos are always a great hit!!!  They're fun, last for days, and they're loved by girls AND boys of all ages!
Contact us to reserve your special event!
301-418-8324
For those not into the glitz but want a design that can last for days, we offer temporary tattoos without the glitter in assorted colors and UV reactive temporary tattoos.  We offer a variety of great designs, and if your event has a specific theme, we are happy to coordinate with you.  Just contact us for details.  We look forward to making your next event a great and memorable occasion!