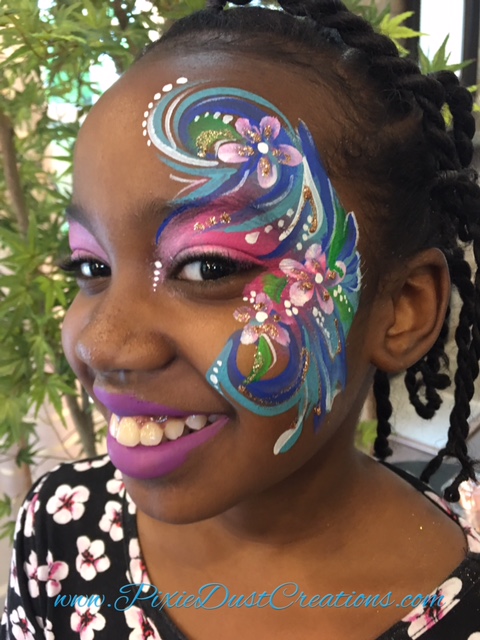 Face Painting is a fun and exciting experience for people of all ages.  Pixie Dust Creations provides professional and fancifully fun face painting for all kinds of events.  We happily serve the Maryland, DC, Virginia, and nearby West Virginia area.   
Our many creative designs help to provoke imaginary play among children of all ages.  Have a specific theme in mind?  We are delighted to customize our designs accordingly.  We want everyone to have a fun, entertaining, artful and memorable experience.
We use only the best professional grade cosmetics on the market. Our face paints are made of non-toxic, water-based ingredients which are fully compliant with FDA toy and cosmetic regulations. Pixie Dust Creations also offers WATER-PROOF face painting & water-proof Glitter Tattoos!  All artists are professionally insured and guaranteed to make your event a fancifully fun and memorable occasion!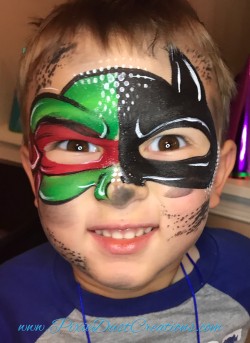 For smaller parties or events, we are delighted to provide full face designs where a few minutes time is not an issue to spend on each guest. This serves 12-15 guests per hour, depending on designs requested and flow of party/event.
For larger parties/events, we have a board of designs displayed for guests to select from.  The type of designs displayed will be time, theme and volume appropriate for 15-20 guests per hour.  
For high volume events, we offer fast face designs that can be completed within 2-3 minutes.  Please consider 2 or more artists to reduce the wait time for your guests if a large attendance is expected.  This reduces the wait in line and makes for an overall pleasant experience for all.   We have a great team of artists to help fulfill the needs of any event! 
Contact us today or call Sandra:  301-418-8324 to inquire or schedule your upcoming event.  It's guaranteed fun and fanciful entertainment that will delight all of your guests…both young AND the young at heart! 
Check out our Gallery Page for examples of our work! 
*PLEASE NOTE:  ALL PICTURES ARE THE SOLE PROPERTY OF PIXIE DUST CREATIONS AND CANNOT BE USED WITHOUT WRITTEN APPROVAL BY OWNER OF PIXIE DUST CREATIONS.  THANK YOU!